THE PEACE DOME
Halima's dream has become Sharda, a centre for universal peace. Within that centre a Temple of Peace is birthing. Humanity yearns for such places…
* A place where all peoples may gather in universal worship and celebration.
* A place to renew our lives for the tasks of healing and awakening.
* A place to honour the spirit of this nurturing land, Aotearoa, and the mother planet Gaia, ours to care for during our brief sojourn between the dream and the One.
By Michael Fleck ( Past Trustee of Sharda)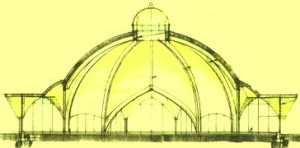 Halima's Vision was to manifest a Peace Dome, as a place of harmony, love,  laughter, singing, dancing, artistic expression, beauty, and joy! This image was designed, by Reinhard Kanuka-Fuchs a bio-harmonic architect.
Your generous donation will help make the Peace Dome a reality.  Donations are tax deductable and will be honoured as gifts from the heart. Please make donations payable to  The Sharda Trust: Kiwibank  A/c 38-9002-0927804-00
Prayer for the Universel
O Thou, Who art the Maker, Molder and Builder of the Universe,
Build with Thine own hands the Universel,
our Temple for Thy Divine Message of Love, Harmony, and Beauty.
Amen.